Net Zero Hub board boosts numbers to accelerate delivery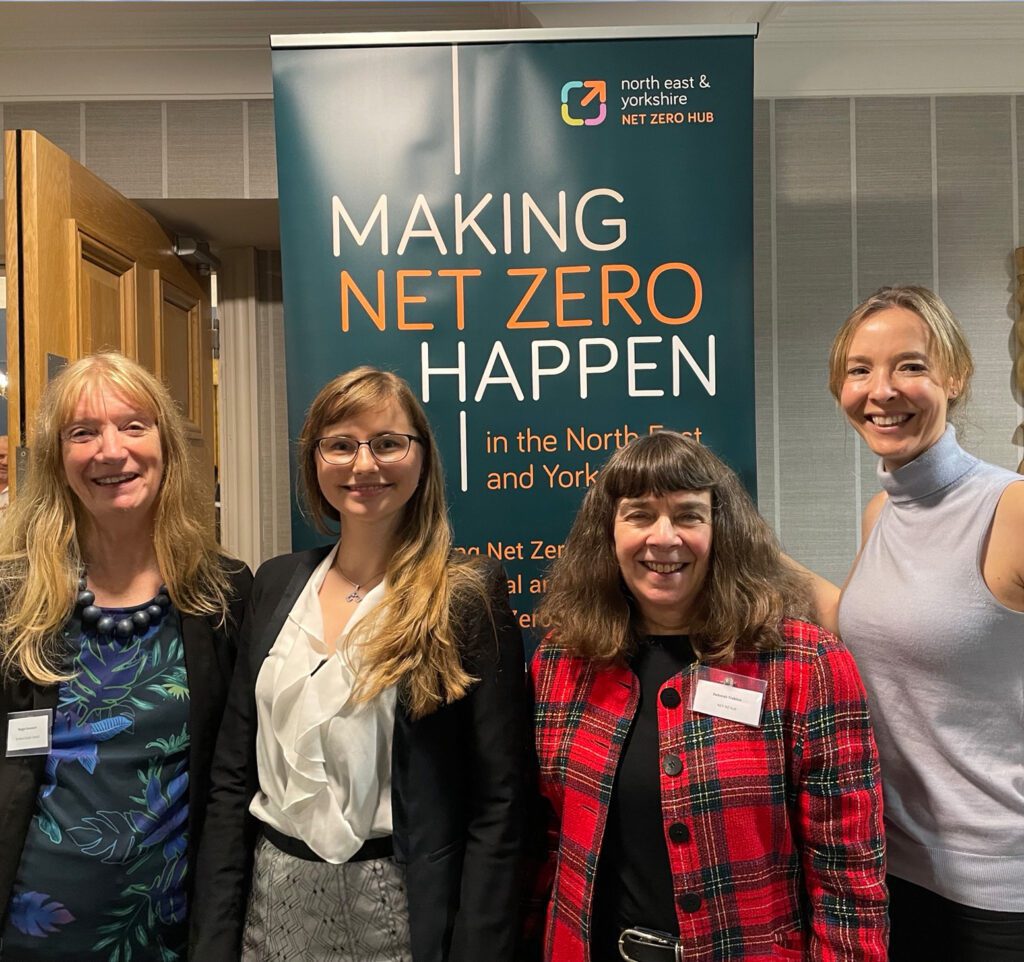 The North East and Yorkshire Net Zero Hub is pleased to announce it has recruited four new board members, hand-picked to increase its commercial and technical expertise. 
The work of the Hub is overseen by a Board made up of representatives from each of the Hub's partner Combined Authorities and Local Enterprise Partnerships and the Department of Energy Security and Net Zero. The Board scrutinises the Hub's delivery, agrees strategic priorities and makes decisions on resource allocations.
Following a recommendation from an independent evaluation earlier this year and a competitive recruitment process, the board has been expanded to include additional commercial and technological knowledge from four additional members
Anda Baurmerte is Sustainability Manager for the West Yorkshire Police where she is currently developing the force's fleet transition plans and establishing a collaboration with wider emergency services across the country to unlock the shared challenges for transport decarbonisation. Prior to this Anda led Northern PowerGrid's award-winning community energy programme.
Dr Debbie Trebilco has held executive and non-executive roles in both the UK and the United States, including board level roles with ICI, Northumbria Water and Bedern Management. Debbie was also a director of Community Energy England, and is a foundation member of Whitby Esk Energy, a community-owned hydroelectric power facility, and a member of the Department of Energy Security and Net Zero Community Energy Contact Group.
Dr Maggie Bosanquet has led Durham County Council's low carbon efforts for over 20 years,delivering a programme of sustainable energy generation, building retrofit, decarbonisation of heat, geothermal energy, electric vehicle charging infrastructure and carbon insetting. She is also a Board member of Durham University's Energy Institute.
Melanie Taylor is the founder of business consultancy Just Strategy and was previously responsible for energy futures transition planning and policy, customer engagement and social impact at Northern Gas Network. Prior to this she established and led the Energy and Environment portfolio for Leeds City Region and West Yorkshire Combined Authority. She also spent two years at KPMG, supporting clients to develop business cases, including the University of Hull's Project Aura.  
Chris Rowell, Chair of the North East and Yorkshire Net Zero Hub Board welcomed the new members:
"We are pleased to welcome Melanie, Maggie Debbie, and Anda to the Board and look forward to them using their invaluable experience and knowledge of the region's Net Zero community to help us shape the direction of Hub delivery and promote the acceleration of Net Zero throughout the North East and Yorkshire." 
Karen Oliver Spry, Manager of the North East and Yorkshire Net Zero Hub added:
"The Hub is moving into a new phase of delivery and to assist with that we need more capacity at board-level – both in terms of challenge and commercial and technical knowhow.
"This has been an enormously competitive recruitment process and we feel we have secured exactly the right mix of commercial expertise, academic excellence and direct experience of local government decarbonisation projects to help take the Hub to the next level".
The North East and Yorkshire Net Zero Hub is a collaboration of the North East Local Enterprise Partnership and North of Tyne Combined Authority, Tees Valley Combined Authority, The North Yorkshire Council, Hull and East Yorkshire Local Enterprise Partnership, West Yorkshire Combined Authority and South Yorkshire Combined Authority. It is part of a network of five Net Zero Hubs across England, funded and directed by the Department of Energy Security and Net Zero to support local areas to deliver their Net Zero ambitions. 
Biographies of new appointees can be found here.